Someone asked me about my favorite beer spots. This made me go all Thrillisty in these warm days of summer. So many places to mention… So I decided to split it up into my five favorite bars, breweries/tasting rooms and shops. First part is about my five favorite bars. Be aware, this is a list of beer cafe's I really like visiting, it isn't a list of the best ones, or the bars with the best beer selection. So don't go naming other bars you think deserve to be on the list.
Here they are in alphabetical order.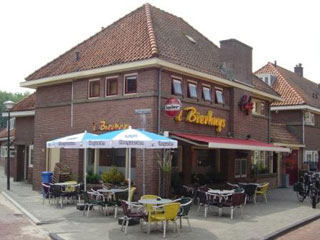 Bierhuys in Woerden
The most unknown of the 5. Why did it make my list? Well, for one it is the closest to where I live so I come here more often than in other bars. But apart from that it is a great place to go. Located just outside of the city center in Woerden, it has the feel of a living room with a bar. The public seems to be mostly locals with the accidental tourist wandering in after a day in beautiful Woerden.
There may not be a lot of taps but the bottle selection is excellent and they try and have many local beers so there is a chance of trying something new almost every time. They have two house beers that are made by De Molen in neighboring Bodegraven, so you know that is going to be good. And talking about locals, they come here often too and they seem to visit it like another room of their house.
De Drie Dorstige Herten in Utrecht
A bar I really should be going to more than I do now. Within a mile there are at least 4 other great beer places you can go to but this is my favorite. I will write about the Golden Square in Utrecht later but in a city already swamped with excellent places to drink craft beer De Drie Dorstige Herten (yes, you are right, it means The Three Thirsty Deer) ranks #1 in my book. It is small, almost living room size but the owners' knowledge is limitless and the selection as good as I have seen anywhere in the country. They support local brewing a lot and Maximus is even their house brewer. GO HERE!! I will more often. You will not be disappointed.
De Koffer in Groningen
As I have written before beer culture in Groningen is rapidly increasing with new bars and breweries opening all the time. But way before this all started De Koffer was already the standard bearer for what a good beer café is supposed to be. And they didn't stand idly by sticking to an old formula while the world around them was changing, they in fact are on the frontline of the revolution. A huge board with just Dutch beers occupies one of the walls but they have so much more than that with a great selection of foreign beers as well. The public is diverse with students, tourists and locals all frequenting the bar.
The managers of De Koffer (The Suitcase) are the best too and know a lot about beer. They keep their staff up-to-date and it is one of the few places I can go to where they will always have something unfamiliar for me on tap. I also love it that they know their customers and will always great you when you walk in.
In De Wildeman in Amsterdam
Need I really say more? Only the Arendsnest surpasses it in selection, but because In De Wildeman has beer from all over the world it is maybe a little more exciting. As with Woerden and De Koffer I admit it helps that you are recognized when you walk in. It makes it more personal and keeps you coming back. I usually come here during the day when it is not too busy and you can sit on the wooden bench overlooking it all: the people walking in, the knowledgeable guests asking about the latest beer, the newbies who just want to try something new. All the while with the board above the door looking down on us. There are people here I see every time, but also tourists find their way, helped by Tripadvisor and Ratebeer no doubt.

Het Hijgend Hert in Vijlen
I admit that I have only beer here once. Also, the beermenu isn't as great as in the other 4 places. In fact, I can name 20 other café's that have a better beer menu. Why is this in the Top 5 anyway? Because it is a location without equal. Located on top of a hill looking out over parts of Limburg. Farm animals are nearby and a beautiful forest behind it. It is about as far away from most people as possible. For someone in Groningen a city like Bremen is closer. It is also the highest located café in the country. I know that doesn't mean much, the coffeemachine on top of the Empire State Building is higher for example but in a country as flat as ours it is at least something. For the greatest setting imaginable go to the Panting Deer, I am going to plan vacations nearby just to go here again.